Looking for the best social media marketing tools to dominate social media? If yes, stay tuned, this blog post is exactly for you.
As usual, I'll start with my experience, when I just started social media marketing, I used to do everything manually which was time-consuming and I had to put a lot of efforts for every single task. Be it uploading a blog post on any of the social media platforms or engaging with people, managing comments, following and unfollowing the people in your space, and so on.
I found that "nothing can be hard than manually managing a business". If you're doing everything manually then you'll achieve so less after spending a lot of time, which means minimum output with maximum input, which is not a good idea.
The major thing that was hard for me to do is to manage multiple social media accounts, it was really hard for me to switch between several accounts of multiple clients (including my own accounts). Since I was having only one PC so I feel I need some platform that can provide me with a super dashboard so that I can access all the accounts in one place.
Let's first have a look at some most common things that troubled me in my initial journey, because I was having less knowledge and new in the field of digital marketing.
Switching between the multiple accounts
Track the new comments, likes, leads, of multiple accounts on several social media platforms including Facebook, Pinterest, LinkedIn, Twitter, YouTube, Instagram, etc.
Follow/Unfollow the people, manually it takes a lot of time
Doing every single task manually like uploading posts at minimal times which demands efforts and your presence all the time
Responding to every single comment and a new message from the potential customers, especially on time
Scheduling the social media posts
Finding the groups and to join them
and many more troubles were there…
Sometimes, I didn't get time to post on every social media platform. Sometimes, I just missed some messages and comments from potential customers. blah blah blah…
I hope you can now understand what might be the troubles that you may face if you're thinking to do everything manually.
Like everyone wants to do, I started to put the things on automation. I got inspired by the book 'The 5 AM Club by Robin Sharma', this book has some really good lessons for a person. The book helped me to make some decisions that I was confused with…
Then I started doing research, improvements in my strategies, and then research and experiments, and so on... I tried many tools that could help me with social media marketing.
I came across many tools that helped me in my journey, a few of them are outdated now and rest of the social media marketing tools are still working in 2019 and will be working in 2020 as well. Before I list the best tools for social media marketing to grow, let's have a brief look at:
Why Social Media Marketing?
In this competitive age, social media marketing is not just a need for business but a vital element of your business. Social media marketing is even more important for small businesses.
Marketing using social media platforms is one of the most accomplished and active strategies. 97% of marketers are already reaching out to their target audiences using social media.

Tweet
Here I'm going to mention:
15 reasons (in short) what's so great about social media marketing
Your potential customers are on social media: Around 70% of the people in the USA use at least one social media. It is expected that 3.1 billion people will be using social media by 2021 worldwide.

Tweet
Users on social media are open to engaging with brands: 95% of the online adults between the age of 18 to 34 are expected to follow a brand on social media to deal with them or to learn more about the brand or there might be some other reasons.
Social media helps you to improve your online visibility: More online visibility results in increased brand recognition. Increased brand recognition means more sales and recurring purchases.
Social media helps in driving targeted traffic: If you are consistently posting on social media that adds value, then users are likely to visit your website which may convert into customers.
Different social media platforms can be used to reach specific audiences: By analyzing the social media platforms and users on these platforms can help you to target a very specific audience for higher conversion rates. Just choose strategically, which platform is best for you, where your audience is active.
Social media allows you to target and re-target ideal customers via advertising: Social media advertising helps you to drive more relevant traffic to your website which may give you better outcomes.
Social media marketing is cost-effective: The CPM (cost per thousand impressions) on social media can be as low as $2.50 which is 3 times less expensive than advertising using traditional media. According to the reports by HubSpot, 84% of the marketers had increased their traffic by just spending 6 hours per week on social media.
Social Media Marketing helps to improve Search Engine Rankings: For those who don't know, social shares are one of the most important ranking factors, more social media shares give higher ranking in SERPs.
Your competitors are already on social media: And to keep yourself in the race, you need to have your presence on social media, otherwise, you'd not be able to win if you're not building a brand personality. If you'll do better than others, you'll be shine among your competitors.
Social media tends to give higher conversion rates: HubSpot reports say, social media has a 100% higher lead to close rate than outbound marketing. After looking at valuable content posted by you on social media, it's easier for users to trust you, which results in more conversions.
Social media marketing improves brand loyalty: Big brands use to spend on customer loyalty programs, small and medium level businesses do the same using social mediums. You have build relationships with customers using social media and talking to your fans which in turn improves brand loyalty.
Customers seek for recommendations on social media: Word-of-mouth is one of the most proven and effective marketing that goes long. People on social media are more likely to buy from brands that have been recommended.
Social media connects your brand with customers that you think didn't exist: Sometimes we unintentionally ignore a few of our customers, but using social media can help us to overcome this issue.
Social media marketing improves brand authority: If you have valuable content, then your content will get more share which leads to improving the domain authority.
Social media marketing can help you to gain new customers and insights: Last but not least, social media platforms give you an opportunity to gain new customers and insights. Insights can help you to take further steps by getting to know about your customers' interests.
You already have some reasons for, 'why marketing using social media is so great?', let's back to the point. I was talking about the manual efforts of social media marketing, now the question is, 'how can you manage the social media efficiently in less time?'
It's not about managing but also about to grow. Fortunately, we have many advanced tools for social media marketing that can take care of most of the tasks and growing your business.
Using the right social media tool at the right time and right social media channel can drastically boost your engagement in no time and less effort.
Here I have picked up the best social media marketing tools that you can use for your needs. These tools can be used by all types of businesses, be it a small business, or medium business or an enterprise.
Your content type and the social media platform you're using and your pocket decide which tools will be best for you. Most of the social media tools offer a free trial which is good to test the tool before going with a paid option. These high-quality social media marketing tools have already proven their worth for businesses like yours.
Without boring you any further, let's get started:
Best Social Media Video Tools:
As I have mentioned many times in other blog posts, video marketing is doing great these days and will be doing great in the near future as well. In fact, Neil Patel says, "Videos are the future of marketing".
When video usage on every social media channel is becoming a prime factor for marketing, let's have a look at the best social media video tools. These tools will not only help you to create videos faster but also help you to make the most out of live videos. Some of the tools will also help you on YouTube as well.
OneStream
Pricing: Paid plans start with $10/month
OneStream is a powerful social media automation video tool, you should note it down somewhere right now. Although, this tool do only one thing and it does it so great.
OneStream can be used to schedule the pre-recorded videos to go live on social media platforms. Platforms supported by this tool are Facebook, Twitter, YouTube, Periscope, etc. If you are having tons of pre-recorded videos and you want to stream them live, you can use this tool and schedule all your videos on various social media channels.
In my opinion, this is super friendly to use, you can simply add videos by uploading, you can also directly integrate with Dropbox or Google drive.
The tools come with both free and paid plan, with the free plan you can stream videos to one platform and paid plan gives you unlimited access. You opt to use a free trial of the paid plan before committing to purchasing this tool.
Ecamm Live
Pricing: Paid plans start with $12/month
Ecamm Live is a social media marketing tool that is easy to use and operate on Mac. It could be your new broadcasting studio if you're thinking to stream live videos. Ecamm Live has already a huge subscriber base, a lot of people using it also recommend it to others for live broadcasting.
Currently, it supports popular social media channels such as Facebook, Twitch, Periscope, YouTube, etc. You can go live using this tool and your desktop, not only this, you can do a lot more with this like:
You can stream videos with multiple cameras including DSLR and cameras are switchable.
You can add lower thirds, GIF, images, Screenshots, etc. when streaming live.
You can add up to 5 guests at once for the live broadcast from Skype.
You can show cameras and skype guest in either split-screen or grid view.
You can stream a pre-recorded video as live video.
You can add live picture-in-picture to pre-recorded videos.
You can reuse every broadcast easily as it will be saved automatically.
Comments will be highlighted from live watchers in the live video.
You can integrate with Restream and Switchboard to live stream on multiple platforms at once.
They also offer a free trial before going with a paid plan. Ecamm Live lets you do a lot more than just live broadcast to a great extent.
Download Ecamm for Mac (Free Trial)
Wave Video Maker
Pricing: Paid plans start with $8.25/month
Wave video maker is one of the most popular online platforms for making videos, especially for social media. They have tons of templates to choose from and built-in stock photo libraries to explore which makes the process of creating videos faster. You can also upload your own videos, music clips, and pictures.
You'll wonder to know that you can create videos for almost every social media platform on Wave.video at once.
Curious to know, how?
You can resize the same video for 30+ platforms in just one click as they support the aspect ratio for so many social media platforms.
You can export video in .mp4 format on your desktop or to a dropbox folder. You have an option to share the video directly on social media platforms.
You can schedule and plan your content (even custom content) using the free social media calendar offered by Wave.video for free. In a single line, I'd like to say, wave.video is a great tool for making videos for social media needs. It'll boost up your performance.
With the free plan, you can create HD videos of 720p which should be up to 15 seconds long. They also have paid plans which offer a lot more. So, if you have your core focus on videos in social media marketing, this tool is worth it.
Best Social Media Marketing Tools Proven to Drive Results
Crowdfire
Pricing: Paid plans start with $7.48/month
Crowdfire is a powerful social media management tool that can help you to level up your game. You can discover and schedule the content using Crowdfire. The tool is compatible with iOS, Android and Web. You can schedule your content across several social media including Twitter, Instagram, LinkedIn, Facebook, Pinterest, etc.
One thing that I like about Crowdfire is, it lets you discover the relevant content based on the topics of your interest. Content that can be shared across various social media in just a click (You can use Google chrome extension).
Another best thing is, it suggests the optimal times for posting on social media platforms. 19M+ users are already using this tool; you can also create a free account to check it out.
AgoraPulse
Pricing: Paid plans start with $89/month
AgoraPulse is one of the best social media marketing tools that I will recommend you for Twitter profile management, it can help you to increase your engagement on Twitter, Facebook, and other supported platforms dramatically.
If you have a team for social media marketing then AgoraPulse comes with team features that let you manage the things easier. You can publish, manage, engage, and monitor with your audience from a single dashboard.
AgoraPulse has its mobile application as well using which you can manage and control all your twitter profiles (@my personal profile and @terminternet). AgoraPulse allows you saved replies option, this is the best part of this social media marketing tool. The template feature is also good when it comes to replying to a repeated question over and over again.
They also do have some free tools like Facebook Page Barometer, Twitter Report Card, and Facebook Page Contests.
SocialPilot
Pricing: Paid plans start with $25/month
If you have dreamt of taking your social media campaign to a greater height, then SocialPilot can help you in achieving your dream.
With the help you SocialPilot you can schedule up to 2,000 social media posts using their paid plan. They boast that their tool is simple and cost-effective and trusted by 115,000+ businesses.
You can analyze the results and activities with the posts that you have made. Team feature lets you grant access to other people to work with. They also do have a mobile application so that you can do the work even when you're on the go.
Another great feature worth to mention is the social inbox, which lets you manage all your messages from just one dashboard.
Adobe Spark
Pricing: Paid plans start with $9.99/month
Adobe Spark is a great tool to create stunning visuals like videos and graphics which are appealing and engaging.
If you want to create an Ad that must have high CTR (click-through-rate), then Adobe Spark is going to help you.
You can create posts that may go viral with adobe spark. Here are two designs that I've created in just 5 minutes with the help of this tool.
If you have attractive and engaging posts, people are going to consider you more authoritative and credible in your space. Explore the power of adobe with adobe spark will take you to the next level.
Another worthy feature is, you can create images of various sizes that could be used across many social media platforms. This feature makes it a powerful social media marketing tool.
Canva
Pricing: Paid plans start with $12.95/month
Canva, I believe is the most powerful tool for creating awesome pieces of images and graphics for your every need. Be it a blog, social media post, YouTube thumbnail, Stories, Logo, Website pages, and a lot more.
The best thing, all this is FREE of cost. A beginner should use this tool for sure. I personally use it (FREE version) and a paid plan is even more powerful than the free plan. Love this social media marketing tool which is so useful. (Even the featured images of this blog post are created by Canva)
Now comes the next great feature of this tool, it's super easy to use. I learned almost everything on Canva within just a week by just experimenting the images. There is a huge library of in-built templates that can be used for creating images.
Hootsuite
Pricing: Paid plans start with $45/month
Hootsuite is one of the leading Social Media Marketing and Management Tools which helps you to manage multiple networks and profiles.
Hootsuite lets you connect up to 35 social media accounts instantly. Just a few clicks to schedule your content saves a lot of time, like a buffer.
With the dashboard of Hootsuite, you can manage, engage, collaborate, analyze, and integrate your best content.
Try Hootsuite Free for 30 Days
Post Planner
Pricing: Paid plans start with $3/month
None of the social media marketing tools is better than the Post Planner when it comes to scheduling the posts. According to the research at Buzzsumo and Buffer, it has been found that posts by Post Planner tend to get 5x more engagement.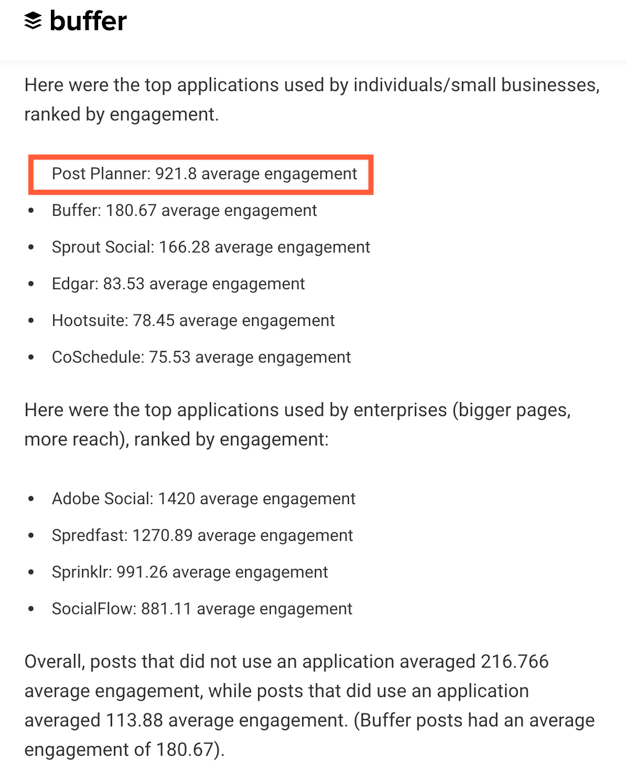 The advance feature of this social media tool allows you to find, plan, and post the ideal content that can drive results in a short period effectively. These days, I'm using this tool for finding up the content and SocialPilot to schedule content.
MeetEdgar
Pricing: Paid plans start with $49/month
In one of my blog posts, I explained how important content marketing is? How can content marketing make a difference in your business? It takes time to develop an effective content marketing strategy.
Content marketing is all about creating helpful, relevant and quality content consistently. It demands for efforts and time, why should you not reuse your old content?
The fact is, 60% of marketers reuse their content to market themselves.

Tweet
Now, it's also not an easy task to keep track of the old content and schedule it for reposting.
Don't worry! Edgar has got you covered. Edgar can help you to manage your old content easily and efficiently.
Edgar not just lets you schedule posts but also keeps a stack of the old content. This stack keeps cutting away at old content and removes it out of the cue as a piece gets republished.
WhoUnfollowedMe
Pricing: Paid plans start with $4.99/month
Are you following some people on Twitter and want to know if they are following you back or not?
It might also be possible that some of your followers leaving you out of your knowledge?
WhoUnfollowedMe gives you a clear picture of non-followers or those who are unfollowing you.
It also provides you the insights for your content if your content is doing well or not. Your content is engaging the users that you're seeking for.
Iconosquare
Pricing: Paid plans start with $29/month
Iconosquare is an Instagram & Facebook Analytics, Management, and Scheduling tool. They show advanced analytics and insights which are easy to understand.
If you manage multiple accounts, you can do so from one place. This social media tool comes up with post scheduler using which you can put on content on automation.
Built-in features of Iconosquare lets you know about the best time to post, geotag, user tag, and more that ensures your post will reach out to the right people at the right time.
With this excellent social media marketing tool, you can check out the comments, likes, average likes, best performing posts, growth chart, etc.
You can communicate with your Instagram followers using the given dashboard.
Pinterest Analytics
Who does not want to know, how their pins are performing, who is seeing your pins, who are clicking on your pins and visiting your link?
With the help of Pinterest Analytics, you can check it all, stats about all your pins, how your pins are doing. These analytics can help you to improve your pins and boards to drive the most result. It also shows you how people are using your pins.
This social media tool also shows you the best-performing pins of all the time along with the demographics and other details of your Pinterest followers.
Sign in to Pinterest Analytics
Tailwind
Pricing: Paid plans start with $9.99/month
Tailwind is another one of the best social media marketing tools, especially for Pinterest and Instagram. You can schedule your posts, check your analytics for social media profiles, discover content, monitor conversions, and amplify reach with just one tool.
It also possesses a team feature and had used by 200,000+ brands and agencies to date.
The intelligent feature of Tailwind is hashtag recommendation. Now you are not required to research and think for hashtags every time you publish a post. Tailwind will auto-suggest you readymade hashtags to optimize your post so that it can reach to maximum people with just a tap.
Sprout Social
Pricing: Paid plans start with $99/month
Sprout social is used by people for several social media management solutions. Sprout social is a famous social media tool for building and keeping relations.
It provides you with a fast and reliable way to have replied to your clients' queries.
It makes you appear more professional and improves your customer service. Everyone is this modern age is in a hurry! So, they all need quicker replies and Social sprout helps you to resolve customer queries across all social media channels.
This tool is going to make your communication smarter, faster, and efficient.
Twitter Analytics
As the name suggests, Twitter Analytics helps you to measure the stats of your Twitter account.
Using Twitter Analytics, it's easy to measure and boost your Twitter impact.
Not just only you can measure the stats but it also helps you in making your tweets more successful. You can have a look at the clicks and the demographics of the users engaging with your content.
Check your Twitter account analytics
Tagboard
Pricing: Contact for Price
Tagboard is your trusted social media display partner, recommended by experts.
This social media marketing tool is used to manage and locate your brand activity which is taking place on social media regarding your brand.
Your community create awesome content for you, empower them to tell your story. You can use the content from the worlds' top social media channels into impactful displays for your live broadcast, venue screens, web, and mobile platforms.
You can search for a hashtag and it will give you the results of the hashtag, be it negative or positive. It gives you a broader and clear picture of the analytics on a real-time basis.
Brand24
Pricing: Paid plans start with $49/month
When someone mentions you on Twitter, it might be possible that you're not available to respond.
It's really hard to go to each social media and track every mention and then respond to them accordingly. It may take hours to do so. But, not to worry, Brand24 is here to got you covered which makes these tasks a lot easier.
Brand24 keeps you updated on a real-time basis with all the information and activities taking place regarding your brand on social media platforms.
It will not only save your time but also keep you away from manual efforts. You would be able to respond to every single comment either positive or negative.
Nuzzel
Nuzzel is a next-generation news monitoring and research tool for PR professionals, investors, researchers, marketers, salespeople, lawyers, and business owners.
Nuzzle helps you to know about your targeted audience which is the first rule of social media. It helps you to sort out the information like contact info, demographics, behavior or interest of the user, etc.
This social media tool keeps you updated with what is happening and trending on and with your profile over a social media platform.
Compatible with Android and iOS, helpful in content curation for Facebook and Twitter.
BuzzSumo
Pricing: Paid plans start with $79/month
Buzzsumo is the most important social media marketing tool that can help you with content marketing and SEO campaigns.
With BuzzSumo, you can find what content performs best for any niche or topic or competitor. You can also find the key influencers to promote your content using this social media tool.
Just put in some keywords or a key phrase and it will show you which content is most shared and who has shared the content, Then, you can chase the same accordingly.
Social Mention
Social mention is a simple but effective tool for monitoring and tracking social media. It helps you not to miss out on any social mention of your brand.
You can now check out who is talking about your brand then you can engage with them. It collects information about the user-generated content from hundreds of social media channels.
Feedly
Feedly is the world's most popular RSS and blog reader with over 15 million users. Using Feedly can help you to stay updated on and what is happening on your social media networks.
It keeps you updated with every single tweet from all your competitors which is somewhere necessary for your growth.
Just register on Feedly, and you can now access all the keywords and alerts and changes that are made in a blog, publication or YouTube channel that are there in your following list.
Final Words to Conclude – Best Social Media Marketing Tools
Social media marketing is tough without tools and so easy if the right tool for the right purpose put together. You can make the most out of social media marketing with minimum efforts and time.
If you have any query, please do let me know via comment, I'll update this blog post regularly to keep you updated with all the required tools for your social media marketing needs.
A lot more to come, until then, stay tuned!